Posts tagged
Curtis Painter
UPDATE: I misread the Rotoworld entry on Robert Mathis, and inadvertently marked him as a free agent beginning this year.  Thankfully, he is under contract for one more year.  Post updated to reflect this.  Apologies for any confusion!
For all intents and purposes, the 2011 season has begun for the Indianapolis Colts. And if the team were preparing for their first game of the 2011 season, Curtis Painter would be lining up under center and Brett Swenson would be practicing tee shots.
OK, OK, it's sensationalist and nobody expects that to actually happen. Owner Jim Irsay has gone on record as saying that the Colts will make Peyton Manning the highest-paid player in the NFL. And after Adam Vinatieri's season, in which he went 29 of 31 (including the playoffs), and was perfect on 52 XPs, it is hard to imagine the Colts wouldn't do what is necessary to re-sign him. Vinatieri has also expressed an interest in completing his career in Indy. But what does the roster currently look like to start 2011?





(No Ratings Yet)

 Loading ...
Game Stats: Chiefs v. Colts
During the bye week, it is good to look back at some of our previous games and get some perspective, and possibly look for the silver lining in our performances so far this year.  Despite a chorus of pundits hailing the Chiefs defense, this game was more accurately an attempt for the offense to maim itself.  Between poor performances by Ryan Diem and Mike Pollak, and the combination of Reggie Wayne, Pierre Garcon, and Dallas Clark catching a paltry 50.0% of their passes, the offense would have made the Buffalo Bills defense look like it was playing Curtis Painter again.
Don't fret because there is some good news.  First, the defense stepped up in their usual fashion… just when we desperately needed them.  We are still whiffing on tackles too much, but there are plenty of encouraging signs.  The other piece of good news is that the offense was at a statistical low-point, which means it should swing back toward the great Colts offense the league has come to expect.  This isn't guaranteed, but considering Manning almost always comes back with a vengeance after a poor performance, and the numerous miscues are so out of character for this offense, one can't help but believe that things have to be looking up from here (statistically and physically).  More >





(No Ratings Yet)

 Loading ...
The last few weeks were rough on Colts backup quarterback Curtis Painter. While fans entered the preseason with hopes that Painter would show signs of development and progress, which was promised by coaches and writers who follow the team, his performance against the San Francisco 49ers left many with a bad taste in their mouths. Many fans started to call for Painter's head, wanted him to get cut, and insisted that one of the Colts other quarterbacks would be more qualified to fill the backup role.
The only way these fans could be swayed to change their opinions would be for Painter to close out the preseason as one of the brightest contributors to the team.  He would have to throw for multiple touchdowns in each contest, not make further errors, and be something that no backup quarterback has been since Peyton Manning arrived in Indianapolis.  He would have to prove that he could be a veteran quarterback that could beat up on second and third string opponents, showing promise for the Colts season even if Manning had to miss time.

Andy Lyons | Getty Images
More >





(No Ratings Yet)

 Loading ...

2009 Game Recap – Week 17: Colts at Bills
This entry is part 9 of 9 in the series 2009 Series Recaps
To help pass time this off-season, I have reviewed the Colts regular season games from 2009. With this second look at how the team played, a few thoughts have occurred to me which were not obvious during the initial viewing, and I thought it a good opportunity to rethink some of my previously held opinions of the team I love. So, with your kind indulgence, as I view a game at a time I will be sharing my impressions.
Personal Note: This is not, and was never intended to be, an objective, unbiased review of an NFL contest. It is instead a glimpse into the emotional ride experienced by the average Colts fan at game time. My Homerism switch is engaged and turned up to eleven. With that in mind, I invite you to join me as we relive the highs and lows of the 2009 Indianapolis Colts season.
Today's Game: Week 17: Indianapolis Colts at Buffalo Bills
Setting the Stage
The Colts enter the final game of the regular season with a league-leading record of 14-1. Quarterback Peyton Manning is second in the league with 4,405 passing yards, and wide receiver Reggie Wayne is tied for third in the league with 1,243 yards receiving. Pierre Garçon is nursing a sore shoulder and does not play. Defensive end Dwight Freeney, kicker Adam Vinatieri, linebacker Clint Session, defensive end Robert Mathis, defensive back Jerraud Powers, and running back Chad Simpson are out with various injuries. Defensive end Ervin Baldwin, defensive tackle Eric Foster, corner back Tim Jennings, safety Aaron Francisco, and defensive end Raheem Brock get the start. Sam Giguère makes his first appearance for the Colts returning kickoffs. Several of the Colts were selected for the Pro Bowl prior to this game; among them are Reggie to his fourth, Peyton to his tenth (ties Colts great Johnny Unitas), and tight end Dallas Clark to his first. Bills quarterback Ryan Fitzpatrick leads the 5-10 Bills, who boast a defense with 26 interceptions on the year (tied for second).
The Field: Frozen solid on a near-whiteout, wintry New York day at Ralph Wilson Stadium in Orchard Park, NY. Temperature is 14 degrees with northwest winds gusting to 40 mph. That is a wind chill temperature of minus one, folks. I swear I just saw a polar bear wearing a parka in the stands.
The Crowd: Sparse and subdued. The stands are half-empty. Or is that half-full? Either way, they are wrapped head-to-toe in cold weather gear and act like they are still recovering from the holidays.

CBS Sports
More >





(No Ratings Yet)

 Loading ...
So today is the day — it is Armageddon for a number of young players. While many probably already know their fate, it has not been announced yet.  To keep track of who has been retained, and who is getting waived, a list of all the players on the team is available after the jump.  As the day goes on and more is announced, their status will be updated to reflect their position on the team.  If visitors learn news about a player and it has not already been updated, please share the news in a comment.  Swarms of people are watching with bated breath, and with numerous sources like player twitter accounts and official sources like Adam Schefter and Phil B., it should be easy for the fans to keep this list up-to-date throughout the day. More >





(
1
votes, average:
5.00
out of 5)

 Loading ...
In-Depth Final Preseason Roster Prediction: Offense
The Indianapolis Colts used the final preseason game to allow future backups on the regular season roster, and future practice squad players, to identify themselves through their performances.  Each of the new, young players stepped onto the field at Lucas Oil Stadium Thursday night with all of the training and development the Colts coaching staff could impart over the course of three long summer months.
It is reasonable to believe that there were players who had previously been unable to showcase their abilities, and who had yet to have their "lights come on," who had their chances to show the Colts and the rest of the NFL that they deserve a professional football career.  Some tough decisions will have to be made, and in honor of the players who are on the wrong side of those decisions, this final roster prediction will provide an explanation behind the final depth chart at each position.
John Sommer II | AP Photo
More >





(
1
votes, average:
5.00
out of 5)

 Loading ...
Tonight's game between the Cincinnati Bengals and Indianapolis Colts will have the look and feel of what preseason games represent for most fans — glorified scrimmages.  Few first string players will take the field, the second team will become the first team, and all players who are competing for a final roster spot or a home on the practice squad will have their last opportunity to distinguish themselves.
These players will fit in two different categories, and should be scrutinized accordingly.  Some of the players, many of them playing with the first groups to take the field tonight, are competing for a chance to not only make the roster, but to prove that they are capable of contributing to the Colts immediately.  They will seek to inspire confidence in coaches — and by association fans — that they are capable of filling the "next man up" role without significantly hampering the team's ability to succeed.
The other players will be playing for an opportunity to contribute on special teams, will unlikely see the field in another capacity, or hope to prove they are worthy of continued development on the practice squad.  The obvious job hanging in the balance tonight is who will fill the punt and kick returning roles this season.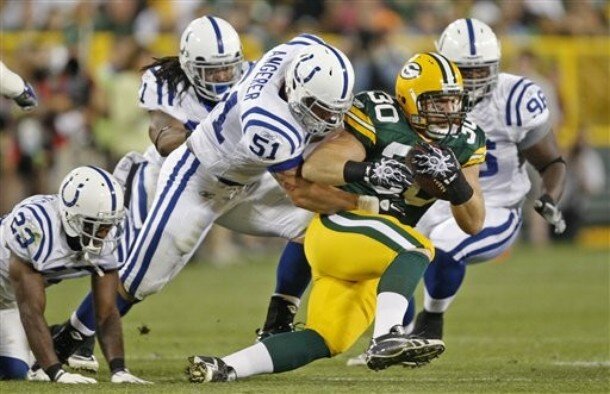 Mike Roemer | AP Photo
More >





(No Ratings Yet)

 Loading ...
Colts vs. Packers: The Good, the Bad, and the Downright Dreadful
Welcome once again to the third incarnation of our preseason recap.  This edition just so happens to resemble the drama in a soap opera, and if it was not for the fact it was so depressing to watch, it may very well inspire a laugh or two at the irony of the situation.  This has so far been the most difficult game to establish any kind of real evaluations of most players.  There were easy decisions regarding the good, however, many players who would be classified as the bad started out doing very well in the game, and individually, there were very few players who stood out as downright dreadful.

I will try to lead the casual observer through a game that yielded 17 first team offensive points in 15 minutes and 21 seconds only to be followed by 20 minutes of ineffective, penalty riddled play that was hard to watch.  As always, we will start with the good news first… More >





(
1
votes, average:
5.00
out of 5)

 Loading ...
Five Things I Think I Know: That Was Ugly Edition
Posted by Robert Itoh in Preseason | 643 views
No comments
For a dress rehearsal game, that was as bad as the Colts could have played. What made things worse was that the injuries piled up. Luckily, this is the preseason and the issues that plagued the team Thursday night can be corrected.
1.) I think the new umpire rule needs to be modified. I have no problem with moving the umpire to the offensive backfield. What I do have a problem with is the offense having to wait for a signal from the line judge. If the ball is placed and the players are set, that should be more than enough to give the OK to snap the ball. Positioning five yards behind the running back should not take a physical toll on anyone's body so it should not affect the umpire's speed to get back into position. Either modify the positioning of the umpire to get the ball placed faster or hire some younger, more athletic umpires.
More >





(
1
votes, average:
5.00
out of 5)

 Loading ...
After attending much of training camp and closely watching three preseason games, it is getting to the point where one should be able to formulate a realistic roster prediction.
Using the final roster from last season as a guideline, along with the Colts history handling draft picks and summer injuries, here is my guess at the 2010 roster.
Feel free to share your thoughts and opinions.

More >





(
1
votes, average:
5.00
out of 5)

 Loading ...