Posts tagged
Cody Glenn
Although the Colts are heading into the playoffs and will not have to worry about new contracts, free agency, and draft planning until after their playoff run ends, once it does things will start happening fast. With all of the players who have contracts ending this season, it will be important to make good choices in order to keep a very talented football team intact.
One thing about any off-season is the chance that difficult decisions will have to be made about players for whom fans have a great deal of loyalty. That is the unfortunate nature of the business of football and those kinds of decisions and observations will be included in what this writer believes is the best direction for the Colts leading up to the 2011 season.
The most important thing to do to start this process is to identify which players require new contracts in order to play football in 2011, and which players currently have contracts that are not reflective of their value to the team.
The players who will need new contracts in order to return to the Colts in 2011 are listed below, by position. More >





(
1
votes, average:
5.00
out of 5)

 Loading ...
Why the Colts Future is not in Doubt
With Indianapolis struggling recently, a lot of fans are questioning the team's future. Many complain about recent drafts and believe the young talent will be incapable of replacing the perennial Pro Bowl and future Hall of Fame talent that is starting to age.
This negative perspective is premature. As long as Peyton Manning is healthy and playing at a very high level in the NFL, the Colts future is safe. With that in mind, it makes sense to focus on the players who represent the team's future, consider their talent level, and where that talent can take the Colts moving forward. More >





(
1
votes, average:
5.00
out of 5)

 Loading ...
Introducing Colts Linebacker Nate Triplett
After the Colts placed Cody Glenn on injured reserve — one of their best special teams coverage players — it made sense to find a player who could play with a similar style and hopefully have a similar impact on special teams. Indianapolis chose Nate Triplett for that opportunity, who started one season as an inside linebacker at Minnesota.
Unlike some of the earlier signings this year, Triplett looks like the kind of player who really has only one future with the team. At 6-foot 3-inches tall and 250 pounds he is much larger than a traditional Colts linebacker. Additionally, his weaknesses make him an unattractive option on defense. Prior to the 2010 NFL Draft, in which he was selected by the Minnesota Vikings in the Fifth Round, CBSSports.com compiled a scouting report on what Triplett brings to the table, which is available after the jump. More >





(
1
votes, average:
5.00
out of 5)

 Loading ...
Colts Roster Moves and Injury News
The Colts made some roster moves today:
Released WR/KR Brandon James, whose performance over the past 2 games unfortunately reminded us why he didn't make the roster at the beginning of the season
Re-signed WR Taj Smith, who had been released on September 9th with an injury settlement after learning that he had a partially torn hamstring which had been expected to keep him out for 5 weeks.  NFL rules prevent teams from re-signing players released in this manner for 9 weeks, but that time period has now passed.
Placed LB Cody Glenn on injured reserve, further thinning the Colts' special teams unit.
More >





(
1
votes, average:
5.00
out of 5)

 Loading ...
The Colts are in a situation that has become all too familiar for fans each year.  They have suffered a rash of season-ending injuries, starting in rookie mini-camp, with third-round cornerback Kevin Thomas.  The Colts added four more defensive backs to that list: including veteran safety Jamie Silva, safety David Caldwell, safety Donye' McCleskey, and cornerback Jordan Hemby — each were lost during training camp and preseason.
Tight end Tom Santi and kicker Brett Swenson also failed to make it to the regular season.  Since the season's start, linebacker Ramon Humber has been waived due to injury and starters Bob Sanders, Clint Session, Pierre Garçon, Charlie Johnson, and Anthony Gonzalez have all suffered injuries that have kept them out of games.  Starting linebacker Clint Session's replacement, rookie Kavell Conner, suffered a broken bone in his left foot in Denver that will keep him out for weeks as well.  Even 2007 second-round pick Tony Ugoh suffered a toe injury that led to his release from the club. More >





(
1
votes, average:
5.00
out of 5)

 Loading ...
Kavell Conner Fractures Bone in Left Foot
AJ Mast | AP Photo
in Denver tweeted earlier today that Colts rookie linebacker Kavell Conner suffered a fracture in his left foot in the first quarter of Sunday's game against the Broncos.  The injury will at minimum keep Conner out for a number of weeks and could lead to him being placed on the injured reserve.  If so, this will be the second linebacker in two weeks who has had his season end prematurely.
Colts fans will have to hope for Clint Session's healthy return in the near future, otherwise only Pat Angerer and Cody Glenn are healthy options to play opposite starters Gary Brackett and Philip Wheeler.  This is disappointing for Conner, who looked promising in his first five quarters of professional play.





(
1
votes, average:
5.00
out of 5)

 Loading ...
Colts Injury and Roster Updates
This week has been busy for the Colts roster.  Tony Ugoh will not be a part of the Colts organization anymore, as he has been released from the injured reserve.  This ends his Colts career and will go down as one of the most disappointing draft values in Bill Polian's career.  I do not believe that Ugoh is a bust, but he did not become the stalwart left tackle the Colts hoped he would be to replace Tarik Glenn.
Joe Reitz spot on the practice squad is finally up at Colts.com.  He replaced former practice squad offense lineman Xavier Fulton.
New to the injury list is Ramon Humber, who has a fractured hand and will certainly miss some time recovering from that injury.  Veteran backup Cody Glenn will likely be asked to fill his role in the defense and on special teams until he returns.  Joseph Addai sat out of Wednesday practice with a knee injury.  Gary Brackett sat out of practice with a back injury. Pierre Garçon was also limited in practice Wednesday and is apparently suffering from a minor hamstring pull.
Linebacker Clint Session has still not returned to practice with his own hamstring injury.  Charlie Johnson took the day off to rest his foot.  Jeff Saturday was limited to rest his recently surgically repaired knee.
Stay tuned later this week as we will discuss the injuries on the Check it to Pancakes podcast and update the injured list on Friday.  Visit the National Football Post for more on the Colts updates.





(
1
votes, average:
5.00
out of 5)

 Loading ...
The Injury Report (Giants v. Colts, Week 2)
It's Friday, which can mean only one thing!  Happy "Injury Report Released" day!  After the jump you'll find the status for each player on the Colts' injury report, their participation notices for the week, and my speculation on their availability for Sunday night's game.
More >





(No Ratings Yet)

 Loading ...
So today is the day — it is Armageddon for a number of young players. While many probably already know their fate, it has not been announced yet.  To keep track of who has been retained, and who is getting waived, a list of all the players on the team is available after the jump.  As the day goes on and more is announced, their status will be updated to reflect their position on the team.  If visitors learn news about a player and it has not already been updated, please share the news in a comment.  Swarms of people are watching with bated breath, and with numerous sources like player twitter accounts and official sources like Adam Schefter and Phil B., it should be easy for the fans to keep this list up-to-date throughout the day. More >





(
1
votes, average:
5.00
out of 5)

 Loading ...
In-Depth Final Preseason Roster Prediction: Defense
The Indianapolis Colts used the final preseason game to allow future backups on the regular season roster, and future practice squad players, to identify themselves through their performances.  Each of the new, young players stepped onto the field at Lucas Oil Stadium Thursday night with all of the training and development the Colts coaching staff could impart over the course of three long summer months.
It is reasonable to believe that there were players who had previously been unable to showcase their abilities, and who had yet to have their "lights come on," who had their chances to show the Colts and the rest of the NFL that they deserve a professional football career.  Some tough decisions will have to be made, and in honor of the players who are on the wrong side of those decisions, this final roster prediction will provide an explanation behind the final depth chart at each position.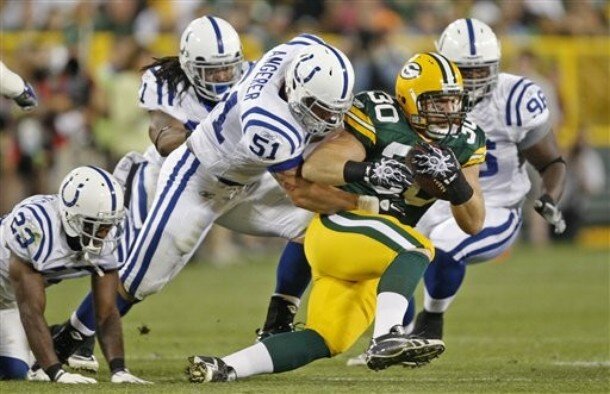 Mike Roemer | AP Photo
More >





(
1
votes, average:
5.00
out of 5)

 Loading ...