Posts tagged
Brandon King
The Colts have had a rough week.  In the Week 6 game against Washington, the Colts lost Joseph Addai, Pierre Garçon, and Dallas Clark.  This string of injuries is reminiscent of November 2009, when within four days the team lost Tyjuan Hagler, Bob Sanders, and Marlin Jackson to season-ending injuries, and it was announced that starting cornerback Kelvin Hayden would miss a month with a knee injury.  It is interesting that, in light of these similarities, there seems to be a lack of perspective this year.  Over the past few days many have implied that the Colts are some sort of a lame duck.
There is no escaping that this may be the worst bye week in Colts history.  But, you know what?  The Colts aren't dead yet! Other than injuries and off-field issues, things have been going well for Indianapolis.  The Colts still have one of the best teams in the league and still have the best quarterback leading the way.  No one will argue that the Colts are unbeatable this year, but even after everything that has happened, there are reasons to be optimistic. More >





(
1
votes, average:
5.00
out of 5)

 Loading ...
Colts Re-Sign TE Gijon Robinson, Continue Practice Squad Shuffle
In order to fill the vacant roster spot left when safety Brandon King was placed on IR yesterday, the Colts have re-signed Gijon Robinson.  Robinson has spent the last two seasons as the Colts starting tight end and H-Back across from Dallas Clark but lost his job this year to rookie Brody Eldridge.
The Colts also continue to shuffle players on and off the practice squad over the bye week.  The Colts waived fullback Matt Clapp.





(No Ratings Yet)

 Loading ...
Colts Place Safety Brandon King on IR
According to Rotoworld, the Colts have placed Brandon King on IR.  With season-ending injuries to Jamie Silva and Melvin Bullitt, and a long-term injury to Bob Sanders, King looked to see increased playing time.  He played against the Redskins on Sunday and even made a couple of key plays in the game, including a fumble recovery.  It appears King suffered a hamstring injury that was significant enough that the Colts could not afford to wait to back-fill his roster spot.





(No Ratings Yet)

 Loading ...
At no time could it be more relevant to write a story about the role of safeties in the Colts defense than during a year which has seen five, FIVE!, strong safeties go out for the year or for a significant portion of the season.  This rash of injuries puts the Colts in a position to put a player into a starting role for the first time in a meaningful regular season game not named Bullitt, Bethea, or Sanders for quite a few years.  Don't get me wrong, there have been occasional one game fill-ins in the past, but never a player who was expected to play somewhere between one-quarter, one-half of the season, or longer.
Undrafted rookies Mike Newton and Brandon King will be competing against journeyman veterans DaJuan Morgan and Aaron Francicso for the responsibility.  This story will discuss what these players will be asked to do, the role safeties play in the Colts defense, and how it is possible that so many players could get injured at one position in one season. More >





(
1
votes, average:
5.00
out of 5)

 Loading ...
Final Injury Report: Chiefs v Colts
Hey, party people (in honor of our favorite punter), happy Friday!  To celebrate this glorious day, we're bringing you the final injury report for the Chiefs v. Colts game, right on time!  After the jump we'll tell you who practiced on Friday and who will play on Sunday.  Enjoy:
More >





(No Ratings Yet)

 Loading ...
Wednesday Injury Report: Chiefs v. Colts
DID NOT PARTICIPATE
S Antoine Bethea – Hamstring
RB Donald Brown – Hamstring
WR Austin Collie – Foot
LB Kavell Conner – Foot
DE Dwight Freeney – Rest
WR Anthony Gonzalez – Ankle
CB Jacob Lacey – Foot
S Bob Sanders – Bicep
WR Reggie Wayne – Knee More >





(No Ratings Yet)

 Loading ...
Colts Safety Melvin Bullitt Out for Season
that Melvin Bullitt broke a bone in his right shoulder and will miss the remainder of the 2010 season.  It goes without saying that the Colts started the year with the strongest and deepest safety group in the NFL only to have two major injuries leaving the unit depleted.  Back-up veteran safety DaJuan Morgan and rookie cornerback conversion Brandon King, who has missed time to a hamstring injury, are the only safeties currently on the roster behind Pro Bowl free safety Antoine Bethea.
Look for the Colts to sign a veteran to replace Bullitt sometime very soon.  While Colts fans entered the season hopeful that the Indy injury curse would end, the opposite has happened.  To this point in the young season a grand total of eight starting caliber players have missed time, with numerous key backups having their seasons end prematurely.  Will provide more information as it is available.





(
1
votes, average:
5.00
out of 5)

 Loading ...
So today is the day — it is Armageddon for a number of young players. While many probably already know their fate, it has not been announced yet.  To keep track of who has been retained, and who is getting waived, a list of all the players on the team is available after the jump.  As the day goes on and more is announced, their status will be updated to reflect their position on the team.  If visitors learn news about a player and it has not already been updated, please share the news in a comment.  Swarms of people are watching with bated breath, and with numerous sources like player twitter accounts and official sources like Adam Schefter and Phil B., it should be easy for the fans to keep this list up-to-date throughout the day. More >





(
1
votes, average:
5.00
out of 5)

 Loading ...
In-Depth Final Preseason Roster Prediction: Defense
The Indianapolis Colts used the final preseason game to allow future backups on the regular season roster, and future practice squad players, to identify themselves through their performances.  Each of the new, young players stepped onto the field at Lucas Oil Stadium Thursday night with all of the training and development the Colts coaching staff could impart over the course of three long summer months.
It is reasonable to believe that there were players who had previously been unable to showcase their abilities, and who had yet to have their "lights come on," who had their chances to show the Colts and the rest of the NFL that they deserve a professional football career.  Some tough decisions will have to be made, and in honor of the players who are on the wrong side of those decisions, this final roster prediction will provide an explanation behind the final depth chart at each position.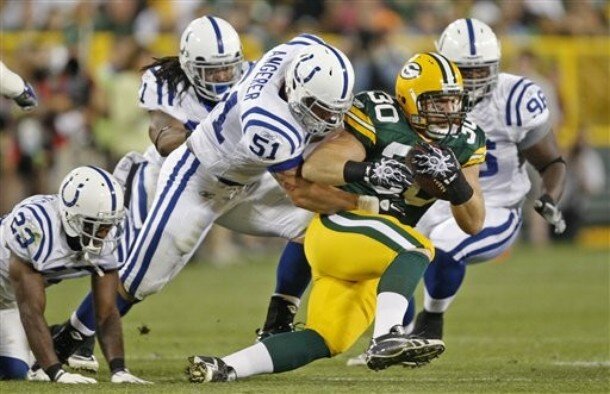 Mike Roemer | AP Photo
More >





(
1
votes, average:
5.00
out of 5)

 Loading ...
Tonight's game between the Cincinnati Bengals and Indianapolis Colts will have the look and feel of what preseason games represent for most fans — glorified scrimmages.  Few first string players will take the field, the second team will become the first team, and all players who are competing for a final roster spot or a home on the practice squad will have their last opportunity to distinguish themselves.
These players will fit in two different categories, and should be scrutinized accordingly.  Some of the players, many of them playing with the first groups to take the field tonight, are competing for a chance to not only make the roster, but to prove that they are capable of contributing to the Colts immediately.  They will seek to inspire confidence in coaches — and by association fans — that they are capable of filling the "next man up" role without significantly hampering the team's ability to succeed.
The other players will be playing for an opportunity to contribute on special teams, will unlikely see the field in another capacity, or hope to prove they are worthy of continued development on the practice squad.  The obvious job hanging in the balance tonight is who will fill the punt and kick returning roles this season.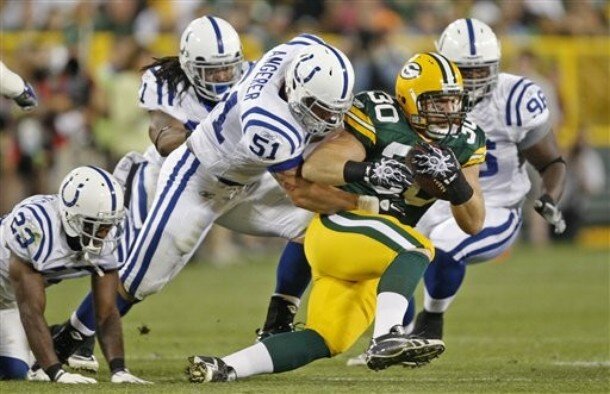 Mike Roemer | AP Photo
More >





(No Ratings Yet)

 Loading ...