Posts tagged
Defensive Ends
Defending Freeney and Mathis
It has come to my attention that Eagles fans have become frustrated with Colts fans comments regarding the regular uncalled holds on defensive ends Dwight Freeney and Robert Mathis.  It is their contention that the Colts are crying over spilled milk, that Colts fans' interpretations are jaded by homeristic glasses coated by the blind opinion that Freeney and Mathis are better players than they actually are.
One Eagles fan took it so far as to create two YouTube videos with every offensive and defensive play for each team to display the differences and to support the conclusion that Trent Cole is actually a better defensive end than Dwight Freeney.  I examine both videos after the jump and break down the holds, chips, and double teams in each. More >





(
2
votes, average:
5.00
out of 5)

 Loading ...
It is said that men are measured not in times of prosperity, but in periods of adversity.  If true, the Indianapolis Colts (4-2), who have decided to go as a MASH unit for Halloween, will be measured in front of a national audience when they host the Houston Texans (4-2) on Monday Night Football.
The Colts, who often find themselves among the most injured teams in the NFL, have taken injury-depletion to a new level in 2010.  Players out due to injury for Monday night's game are:  safeties Bob Sanders and Melvin Bullitt (season-ending injured reserve), wide receiver Austin Collie, defensive tackle Antonio Johnson, linebacker Kavell Conner, tight end Dallas Clark (season-ending injured reserve), running back Joseph Addai, and corner back Jacob Lacey.
The walking wounded could potentially be joined on the sidelines by running back Donald Brown and corner back Jerraud Powers.  Fans interested in obtaining the autographs of Colts players may want to wear doctors or nurse costumes.
Making matters worse for the Colts is the current playoff picture.   Entering Week 8 the Colts are eighth in the tight AFC standings which feature nine teams with .500 or better records.  That, combined with the Colts' two losses in conference and division, and you have what feels like a must-win game if the Colts hope to control their own fate come December. More >





(
1
votes, average:
5.00
out of 5)

 Loading ...
Despite a dominating offensive performance, four fumbles kept the game close.  The offensive line, as a whole, had its best statistical game this year.  Garçon had his best game of the year.  Like last year, he has gone on stretches of poor games, only to bust out with a highlight reel performance in Washington.  He did have a pair of inexplicable drops, but they were his only drops of the game.  Austin Collie was superb, as has become the norm for him.
The mistakes in the passing game were fairly balanced.  The receivers had a few drops, Manning had a few over/under-throws, and there were quite a few passes defended.  While Manning didn't get his 70% completion percentage, 65.8% is still good.
Defensively, linebacker Clint Session's statistics are not representative of his overall play.  Fellow outside linebacker Philip Wheeler's performance in relation to his statistics is the opposite, as he had a solid game.  Rookie middle linebacker Pat Angerer did an exceptional job even though the prime-time game was his NFL starting debut.  More on those stories after the jump. More >





(
1
votes, average:
5.00
out of 5)

 Loading ...
Colts v Jaguars, and Things of that Nature (Week 4 Preview)
On Sunday, the Colts will make their annual trek to the frozen tarps of Jacksonville Municipal Stadium EverBank Field to take on the Los Angeles Jaguars of Jacksonville.  On paper, it would appear to be a contest between two teams built with similar philosophies: build through the draft, have stability at head coach, have stability at quarterback, and never go against a Sicilian when death is on the line.  Looks, as Colts President Bill Polian would tell you, can be deceiving.

Photo by Sam Greenwood | Getty Images
More >





(
3
votes, average:
5.00
out of 5)

 Loading ...
Game Stats: Week 2 – Giants v. Colts
Unlike last week, I actually found time to get the game tape reviewed earlier than the wee hours of the morning on Saturday, which definitely helps free up the weekend for some increasingly intense lab reports.  In today's edition of Game Stats, I'll be giving much of the same information as I did last time, but with fewer definitions and more comparisons.  Quite a lot of time will be spent looking at the increased performance of the linemen, and the effect Brody Eldridge had on the game.
On the defensive side of the ball I will discuss my observations about the way different combinations of players are being used, and what that may mean for the Colts in the future given possible injuries.  I will also provide an update on some important seasonal stats, so we can all be aware of actually how good we are doing this season on average.  Finally, there is a poll at the end concerning reader preferences on some of the stats.  As always, feel free to e-mail me if you would like the raw data, or even just a specific set.
More >





(
2
votes, average:
5.00
out of 5)

 Loading ...
Tonight's game between the Cincinnati Bengals and Indianapolis Colts will have the look and feel of what preseason games represent for most fans — glorified scrimmages.  Few first string players will take the field, the second team will become the first team, and all players who are competing for a final roster spot or a home on the practice squad will have their last opportunity to distinguish themselves.
These players will fit in two different categories, and should be scrutinized accordingly.  Some of the players, many of them playing with the first groups to take the field tonight, are competing for a chance to not only make the roster, but to prove that they are capable of contributing to the Colts immediately.  They will seek to inspire confidence in coaches — and by association fans — that they are capable of filling the "next man up" role without significantly hampering the team's ability to succeed.
The other players will be playing for an opportunity to contribute on special teams, will unlikely see the field in another capacity, or hope to prove they are worthy of continued development on the practice squad.  The obvious job hanging in the balance tonight is who will fill the punt and kick returning roles this season.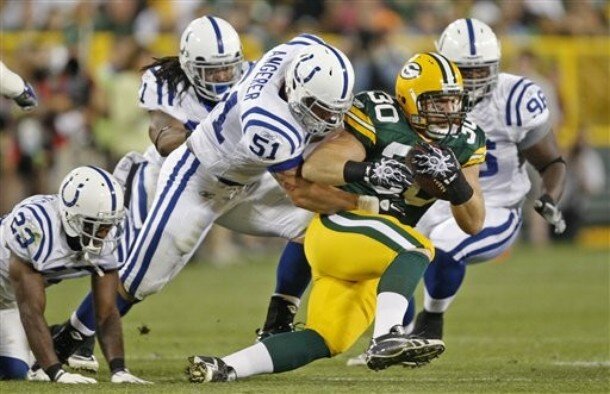 Mike Roemer | AP Photo
More >





(No Ratings Yet)

 Loading ...
Preseason Week 3 Preview: Colts at Packers
The Indianapolis Colts are about to head into the most important preseason game of the year for coaches, players, and overall team development.  While every team approaches preseason games differently, the Colts emphasize giving young players the opportunity to shine and earn a roster spot.  The only exception to this rule is the first half of the third preseason game each year, which promises to feature more of the first team offense and defense than the other three preseason contests combined.
Fans who find the exhibition games painfully boring or unrewarding should reconsider their perspectives for the first half of tonight's game against the Green Bay Packers.  Peyton Manning will focus on locking in his timing with his receiving weapons, and players at the skill positions will run as hard, as fast, and work as hard as they would in a regular season game for the first time since February.  Temper expectations though, as the Colts are unlikely to tip much of their hand in an exhibition matchup, and will likely continue to run vanilla routes and plays.

More >





(
1
votes, average:
5.00
out of 5)

 Loading ...
Primarily due to the outstanding play of players like Dwight Freeney, Robert Mathis, and Raheem Brock, the Indianapolis Colts are known as one of the most dangerous pass rushing teams in the NFL.  The amount of pressure the Colts traditionally generate from the defensive end position demands that opposing offensive coordinators adjust offensive line, running back, and tight end blocking assignments to ensure their quarterbacks have time to find an open receiver.
There is a downside to such aggressive pass rushing.  The traditional role of defensive ends is to contain the football.  The theory behind this responsibility is if defensive ends can turn the ball inside, the ball-carrier is forced to run in the most highly trafficked and patrolled area of the field (lots of defenders).  If the ball gets outside of the defensive ends, generally only cornerbacks, safeties, and linebackers on one side of the field have a chance to stop the ball-carrier before he can find open space and pick up chunks of yards.

AP Photo
More >





(
1
votes, average:
5.00
out of 5)

 Loading ...
Behind Enemy Lines: New York Giants
The Colts' week two opponent, the New York Giants, are coming off of a disappointing 2009 campaign — after a miracle 2007 season and brilliant 2008 season.  After what many believed was a productive off-season for the G-men in 2009, many of the same ailments that cut the team's 2008 season short continued to plague them.
What have the Giants done to fix these problems?  How will they fair against the Colts?  Let's find out.

Brett Mock | Coltzilla
More >





(No Ratings Yet)

 Loading ...
The Dark Side of Tampa
As Colts Fans, many of us have a fairly rudimentary knowledge of the Tampa-2 defense, which was championed by the beloved Tony Dungy.  Even this basic knowledge, though, tends to be more than what most laymen of other franchises know, particularly ones who do not share the love of zone defense, and the small quick defenders that have come to characterize the Indianapolis Colts.
For those who may not have an intimate knowledge, or simply have never been given a real explanation, allow me a minute to briefly describe this heralded scheme.
More >





(No Ratings Yet)

 Loading ...