Posts tagged
Tom Brandstater
Phil B. Wilson of IndyStar.com is reporting that the Colts have re-signed veteran linebacker Tyjuan Hagler. Indianapolis released tight end Gijon Robinson to make room for Hagler on the regular season roster. Additionally, Aaron Wilson of the National Football Post reports that the Colts have released practice squad quarterback Tom Brandstater.  The roster at Colts.com shows that the Colts signed rookie fullback/H-Back Matt Clapp (Oklahoma) and rookie wide receiver Chris Brooks (Nebraska) to fill the spots vacated by Brandstater and Blair White.  It is also worth noting that Donye' McCleskey is no longer list on the injured reserve list.
We will provide more details as they are available.





(No Ratings Yet)

 Loading ...
The last few weeks were rough on Colts backup quarterback Curtis Painter. While fans entered the preseason with hopes that Painter would show signs of development and progress, which was promised by coaches and writers who follow the team, his performance against the San Francisco 49ers left many with a bad taste in their mouths. Many fans started to call for Painter's head, wanted him to get cut, and insisted that one of the Colts other quarterbacks would be more qualified to fill the backup role.
The only way these fans could be swayed to change their opinions would be for Painter to close out the preseason as one of the brightest contributors to the team.  He would have to throw for multiple touchdowns in each contest, not make further errors, and be something that no backup quarterback has been since Peyton Manning arrived in Indianapolis.  He would have to prove that he could be a veteran quarterback that could beat up on second and third string opponents, showing promise for the Colts season even if Manning had to miss time.

Andy Lyons | Getty Images
More >





(No Ratings Yet)

 Loading ...
So today is the day — it is Armageddon for a number of young players. While many probably already know their fate, it has not been announced yet.  To keep track of who has been retained, and who is getting waived, a list of all the players on the team is available after the jump.  As the day goes on and more is announced, their status will be updated to reflect their position on the team.  If visitors learn news about a player and it has not already been updated, please share the news in a comment.  Swarms of people are watching with bated breath, and with numerous sources like player twitter accounts and official sources like Adam Schefter and Phil B., it should be easy for the fans to keep this list up-to-date throughout the day. More >





(
1
votes, average:
5.00
out of 5)

 Loading ...
In-Depth Final Preseason Roster Prediction: Offense
The Indianapolis Colts used the final preseason game to allow future backups on the regular season roster, and future practice squad players, to identify themselves through their performances.  Each of the new, young players stepped onto the field at Lucas Oil Stadium Thursday night with all of the training and development the Colts coaching staff could impart over the course of three long summer months.
It is reasonable to believe that there were players who had previously been unable to showcase their abilities, and who had yet to have their "lights come on," who had their chances to show the Colts and the rest of the NFL that they deserve a professional football career.  Some tough decisions will have to be made, and in honor of the players who are on the wrong side of those decisions, this final roster prediction will provide an explanation behind the final depth chart at each position.
John Sommer II | AP Photo
More >





(
1
votes, average:
5.00
out of 5)

 Loading ...
Tonight's game between the Cincinnati Bengals and Indianapolis Colts will have the look and feel of what preseason games represent for most fans — glorified scrimmages.  Few first string players will take the field, the second team will become the first team, and all players who are competing for a final roster spot or a home on the practice squad will have their last opportunity to distinguish themselves.
These players will fit in two different categories, and should be scrutinized accordingly.  Some of the players, many of them playing with the first groups to take the field tonight, are competing for a chance to not only make the roster, but to prove that they are capable of contributing to the Colts immediately.  They will seek to inspire confidence in coaches — and by association fans — that they are capable of filling the "next man up" role without significantly hampering the team's ability to succeed.
The other players will be playing for an opportunity to contribute on special teams, will unlikely see the field in another capacity, or hope to prove they are worthy of continued development on the practice squad.  The obvious job hanging in the balance tonight is who will fill the punt and kick returning roles this season.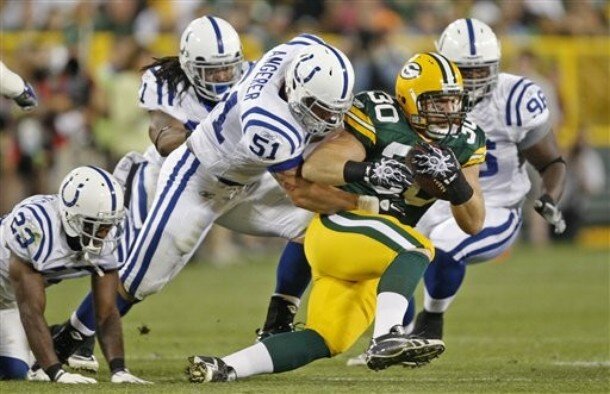 Mike Roemer | AP Photo
More >





(No Ratings Yet)

 Loading ...
Examining the Colts Depth Chart
People commonly do not pay attention to changes in the depth chart, especially during the preseason. The Colts have already reduced the roster to 75, so the team will not announce cuts today.  That said, we are only five days from the final 21 player cut.  We may be able to gain some insight into those cuts from the latest depth chart.
Below is the depth chart as it appears on the official Colts website.  It has been altered to help analyze which players have the greatest potential to remain on the regular season roster, and which will probably not make the cut. More >





(
1
votes, average:
5.00
out of 5)

 Loading ...
Colts Roster Prediction Ver. 1
Posted by Robert Itoh in Preseason | 895 views
14 comments
With the first wave of roster cuts on the horizon and with three preseason games in the books, there is enough information to give a rough estimation on what the final roster will look like. This is the first of two roster predictions that will be posted until the final whistle blows in the preseason against the Bengals.
QB: Peyton Manning, Curtis Painter
Peyton Manning is obviously the incumbent starter at quarterback. Though there is some speculation that second year man Tom Brandstater might challenge Painter for the backup quarterback position, I believe Painter is firmly entrenched. The Colts prefer players that have experience in the system and have shown a lot of patience with quarterbacks they have drafted (see Jim Sorgi). Even if Brandstater was brought in to compete for Painter's job, he has not shown anything that would lead fans to believe he is better than Painter.
More >





(
1
votes, average:
5.00
out of 5)

 Loading ...
After attending much of training camp and closely watching three preseason games, it is getting to the point where one should be able to formulate a realistic roster prediction.
Using the final roster from last season as a guideline, along with the Colts history handling draft picks and summer injuries, here is my guess at the 2010 roster.
Feel free to share your thoughts and opinions.

More >





(
1
votes, average:
5.00
out of 5)

 Loading ...
State of the Colts Franchise: Preseason Offense
The Indianapolis Colts have run just over 80 players through an absolute gamut over the last three weeks of training camp and the early preseason.  During this process the front office and coaching staff have assessed and developed players who will eventually fill the Colts regular season roster and practice squad.  All of the hard work, sweat, long days, and intense studying will come to a head on August 31 and September 4, when the NFL mandates that teams cut their rosters down to 75 and 53, respectively.
I had the amazing opportunity to watch eight of the Colts training camp sessions in-person, along with two preseason games on television — which I have broken down more than once.  With this backdrop, the following story will discuss which players Colts fans can expect to make some noise in the remaining preseason games, and which players may surprise by making the final roster, or by failing to make it.

Kelly Hinojosa | Coltzilla
More >





(
1
votes, average:
5.00
out of 5)

 Loading ...
Painter Has to Go!
OK, I'm trying to remain calm. Really, I am. Last year, I was quick to defend Curtis. I said over and over as if trying to convince myself; "he's a rookie put in a horrible situation. There's no way we could have expected him to succeed."
That was last year.
He's had time to learn how to read defenses, perfect his mechanics, and learn the playbook. What we just saw… over 2+ quarters… was a pitiful performance by a man who shouldn't be employed in the NFL.
Let alone by the best team in the NFL.
If Tom Brandstater isn't the 2nd string QB by tomorrow, I'll…  hold my breath? maybe start supporting another team?
Nope. I'll do what the rest of you are doing; pray that Peyton never gets hurt.
That. Was. Pain-ter-ful.





(No Ratings Yet)

 Loading ...