Posts tagged
Deshea Townsend
The Colts have had a rough week.  In the Week 6 game against Washington, the Colts lost Joseph Addai, Pierre Garçon, and Dallas Clark.  This string of injuries is reminiscent of November 2009, when within four days the team lost Tyjuan Hagler, Bob Sanders, and Marlin Jackson to season-ending injuries, and it was announced that starting cornerback Kelvin Hayden would miss a month with a knee injury.  It is interesting that, in light of these similarities, there seems to be a lack of perspective this year.  Over the past few days many have implied that the Colts are some sort of a lame duck.
There is no escaping that this may be the worst bye week in Colts history.  But, you know what?  The Colts aren't dead yet! Other than injuries and off-field issues, things have been going well for Indianapolis.  The Colts still have one of the best teams in the league and still have the best quarterback leading the way.  No one will argue that the Colts are unbeatable this year, but even after everything that has happened, there are reasons to be optimistic. More >





(
1
votes, average:
5.00
out of 5)

 Loading ...
Game Stats: Week 4 – Colts v. Jaguars
Losing is always tough, especially when its to a division rival — although the Colts are more likely lose to a division rival than anyone else.  At this point there isn't a whole lot that can be done or said to take away the pain of losing or of being 2-2 on the season, with both losses putting the Colts into a hole in the division.  The game stats are what they are, and they can be used to elevate the perception of players or to destroy them, and sadly this game allows both.  While losses always hurt, there are some precious informational gems that can still be gleaned by reviewing the game tape and getting a good look at an individual player's performance.
After looking at these stats, you may start to notice some disturbing trends with some players, and may lock onto some very promising signs from others.  You'll see how Manning rebounded from his lesser performance against Denver, along with some similarities between the Jacksonville and Houston games. More >





(
1
votes, average:
5.00
out of 5)

 Loading ...
In-Depth Final Preseason Roster Prediction: Defense
The Indianapolis Colts used the final preseason game to allow future backups on the regular season roster, and future practice squad players, to identify themselves through their performances.  Each of the new, young players stepped onto the field at Lucas Oil Stadium Thursday night with all of the training and development the Colts coaching staff could impart over the course of three long summer months.
It is reasonable to believe that there were players who had previously been unable to showcase their abilities, and who had yet to have their "lights come on," who had their chances to show the Colts and the rest of the NFL that they deserve a professional football career.  Some tough decisions will have to be made, and in honor of the players who are on the wrong side of those decisions, this final roster prediction will provide an explanation behind the final depth chart at each position.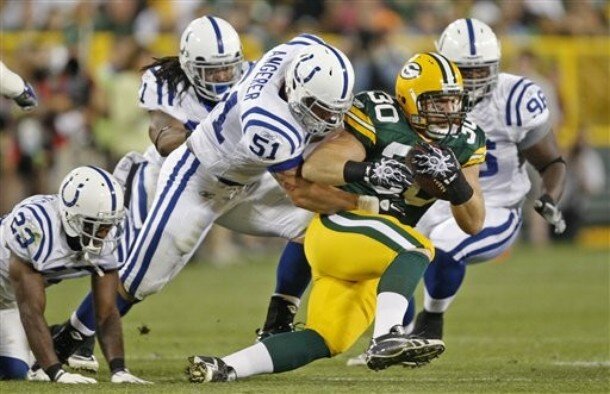 Mike Roemer | AP Photo
More >





(
1
votes, average:
5.00
out of 5)

 Loading ...
Tonight's game between the Cincinnati Bengals and Indianapolis Colts will have the look and feel of what preseason games represent for most fans — glorified scrimmages.  Few first string players will take the field, the second team will become the first team, and all players who are competing for a final roster spot or a home on the practice squad will have their last opportunity to distinguish themselves.
These players will fit in two different categories, and should be scrutinized accordingly.  Some of the players, many of them playing with the first groups to take the field tonight, are competing for a chance to not only make the roster, but to prove that they are capable of contributing to the Colts immediately.  They will seek to inspire confidence in coaches — and by association fans — that they are capable of filling the "next man up" role without significantly hampering the team's ability to succeed.
The other players will be playing for an opportunity to contribute on special teams, will unlikely see the field in another capacity, or hope to prove they are worthy of continued development on the practice squad.  The obvious job hanging in the balance tonight is who will fill the punt and kick returning roles this season.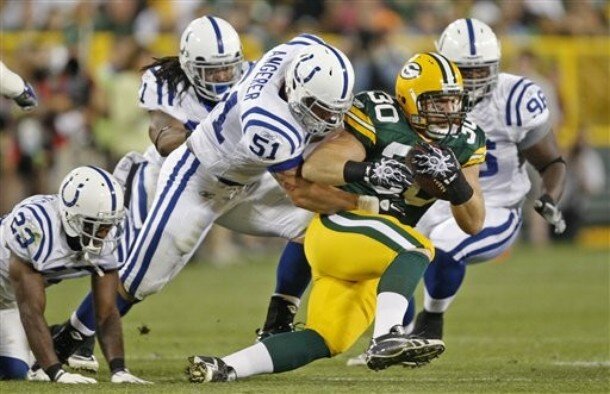 Mike Roemer | AP Photo
More >





(No Ratings Yet)

 Loading ...
Examining the Colts Depth Chart
People commonly do not pay attention to changes in the depth chart, especially during the preseason. The Colts have already reduced the roster to 75, so the team will not announce cuts today.  That said, we are only five days from the final 21 player cut.  We may be able to gain some insight into those cuts from the latest depth chart.
Below is the depth chart as it appears on the official Colts website.  It has been altered to help analyze which players have the greatest potential to remain on the regular season roster, and which will probably not make the cut. More >





(
1
votes, average:
5.00
out of 5)

 Loading ...
After attending much of training camp and closely watching three preseason games, it is getting to the point where one should be able to formulate a realistic roster prediction.
Using the final roster from last season as a guideline, along with the Colts history handling draft picks and summer injuries, here is my guess at the 2010 roster.
Feel free to share your thoughts and opinions.

More >





(
1
votes, average:
5.00
out of 5)

 Loading ...
Preseason Week 3 Preview: Colts at Packers
The Indianapolis Colts are about to head into the most important preseason game of the year for coaches, players, and overall team development.  While every team approaches preseason games differently, the Colts emphasize giving young players the opportunity to shine and earn a roster spot.  The only exception to this rule is the first half of the third preseason game each year, which promises to feature more of the first team offense and defense than the other three preseason contests combined.
Fans who find the exhibition games painfully boring or unrewarding should reconsider their perspectives for the first half of tonight's game against the Green Bay Packers.  Peyton Manning will focus on locking in his timing with his receiving weapons, and players at the skill positions will run as hard, as fast, and work as hard as they would in a regular season game for the first time since February.  Temper expectations though, as the Colts are unlikely to tip much of their hand in an exhibition matchup, and will likely continue to run vanilla routes and plays.

More >





(
1
votes, average:
5.00
out of 5)

 Loading ...
State of the Colts Franchise: Preseason Defense
The Indianapolis Colts have run just over 80 players through an absolute gamut over the last three weeks of training camp and the early preseason.  During this process the front office and coaching staff have assessed and developed players who will eventually fill the Colts regular season roster and practice squad.  All of the hard work, sweat, long days, and intense studying will come to a head on August 31 and September 4, when the NFL mandates that teams cut their rosters down to 75 and 53, respectively.
I had the amazing opportunity to watch eight of the Colts training camp sessions in-person, along with two preseason games on television — which I have broken down more than once.  With this backdrop, the following story will discuss which players Colts fans can expect to make some noise in the remaining preseason games, and which players may surprise by making the final roster, or by failing to make it.

Brett Mock | Coltzilla
More >





(No Ratings Yet)

 Loading ...
Colts Friday Training Camp Observations
On the whole, Friday was one of the most enjoyable days I have spent as a Colts fan.  My trusty camp companion Kelly Hinojosa was back in full force, now toting a quality camera that was used to capture dozens of images we will be sharing with Coltzilla visitors very shortly.
You know you are hanging out with a true Colts football fan when you are presented with flash cards listing up-to-date names, numbers, and positions of every Colts player on the roster.  By the time we arrived at Anderson University to watch the boys practice, I was a roster expert! More >





(No Ratings Yet)

 Loading ...
Colts Training Camp – Tuesday Morning Practice Updates
Throughout training camp, Coltzilla will be following the latest updates from a host of camp goers, picking out the information that may interest fans the most.  Please keep your eye on each of these posts if you are interested to know what is going on at training camp. More >





(
1
votes, average:
5.00
out of 5)

 Loading ...